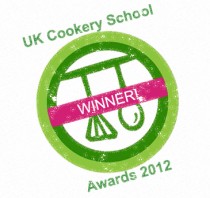 The judging panel for the inaugural UK Cookery School of the Year Awards 2012 was both excited and impressed by the sheer quality and originality on display by cookery schools and their staff throughout the country.
The awards were set up, in conjunction with Tabasco Pepper Sauce, to recognise outstanding achievements in an industry that remains largely unregulated and the positive response from hundreds of schools far exceeded our expectations.
Choosing an overall winner from such strong shortlists was a tough task. In some cases there really was no more than a wafer thin margin between the candidates.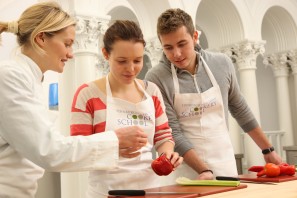 So without further notice, the winner of the 1st UK Cookery School of the Year Awards is… Edinburgh New Town Cookery School
"Edinburgh is a lucky city to have such a fine cookery school," says Nick Wyke, founder of Looking to Cook. "Fiona Burrell brings a depth of experience to a smart team that offers both affordable professional and amateur courses, from classic to contemporary, in an outstanding setting."
Other winners included the Vegetarian Cookery School in Bath, which continues to innovate and delight students and the excellent hands-on Food Safari courses run by Polly Robinson in Suffolk, which in many ways redefine the cookery course experience.
We were heartened to see such a strong response to the Best Community Focused Cookery School category. Cookery schools provide such a great platform to engage with local communities and people of all ages and backgrounds. This was one of our longest shortlists and one of the toughest decisions for the judges. The Square Food Foundation in Bristol edged it for its range of highly useful and accessible courses for all sectors of the community.
At a challenging time for cookery schools, The Orchards School of Cookery has gone from strength to strength by tapping in to a niche and offering practical but fun courses for younger people wanting to learn how to cook. Jamie Oliver's Recipease is another winner that has found a formula to keep the customers flowing with its simple but appealing short courses often just focused on one dish.
There are a lot of polished chef/teachers out there and some larger than life characters but John Benbow beats the competition as the hard-working and charismatic boss of the popular Food at 52 cookery school in London – time and again we've heard of students who have come away from a course with him and been inspired by his passion.
In each category, our final decisions were only partially influenced by customer feedback but it was hard to argue with the flood of glowing comments – many of them career-changing – that we received from alumni of the Tante Marie Culinary Academy, which scooped our prestigious Best Diploma Course award.
Finally, thank you to everyone for their entries, there were many schools doing great things that didn't quite make the shortlists for one reason or another. There's always next year!
Summary of the winners
Best cookery school
Edinburgh New Town Cookery School
Runner-up: Ashburton Cookery School, Devon
Best city cookery school
Vegetarian Cookery school, Bath
Runner-up: Cookery School, Central London

Best country/residential cookery school
Orchards School of  Cookery, Evesham
Runner-up: Culinary Cottage, Wales
Best short cookery course
Recipease, London
Runner-up: Pukka Paki, London
Best day cookery course or food learning experience 
Food Safari, Suffolk
Runner-up: Mark Hix's Kitchen Table and Library, London and Dorset

Best 'diploma' cookery course
Tante Marie Culinary Academy
Runner-up: Edinburgh New Town Cookery School
Best community oriented cookery school
Square Food Foundation, Bristol
Tideswell School of Food, Derbyshire
Best cookery school tutor
John Benbow, Food at 52, London
Runner-up: Rachel Davies, Rachel's Kitchen
Best cookery school website to be announced shortly…