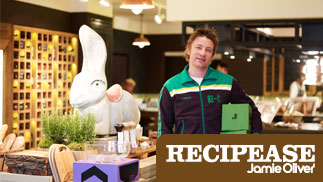 Basic ingredients: Book the session online, arrive, get stuck in, enjoy! Easy-to-learn "buzzing little community hub" courses focusing on specific dishes. Reserve a place for you and a friend to turn up at the cookery school in Notting Hill, west London, then knock out a Thai Green curry, a delicious cocktail and perfect pud or a Beef Wellington with the guidance of a Jamie acolyte. Chop, dice and slice knife skills, filleting fish, classic sauces… From £30 to £60 per person.
They say: Have a laugh and a glass of wine while you learn the tricks of the trade from our highly-trained kitchen pros. When you're done, you'll either sit down with the class and tuck into the tasty dishes you've created or you'll take it home to share with your friends and family.
We say: Classic user-friendly Jamie-taking-over-the-world production. For those for whom downloading the iphone app is not enough. This has got the cookery legend's quick, easy and tasty stamp all over it – from the website where you select the course to the dishes you make.
Please note that the branches of Recipease in Clapham Junction and Brighton are now closed.
Read our latest cookery course report here.