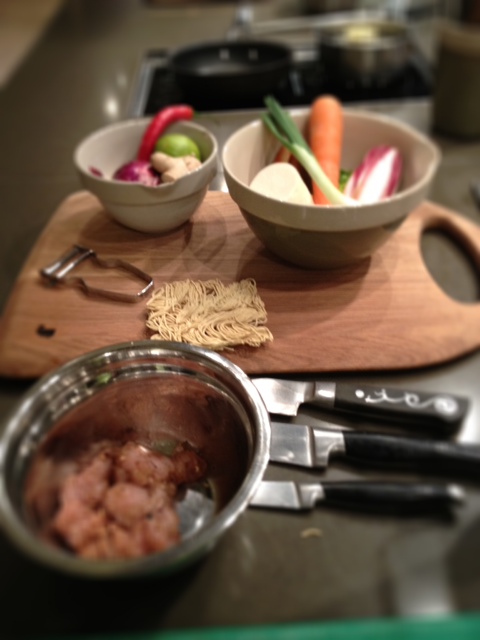 I know nothing about knives. At home I've just got one paring knife, a bread knife and a medium sized knife. They're all blunt. So I signed up for the knife skills course (courtesy of my brother – £50 for two hours or so) at Jamie's Recipease in Clapham Junction, South-West London, to sharpen up my act, literally.
After a bit of puff for the Jamie brand and armed with a glass of wine (potentially a lethal combination for me while handling knives) we got started.
Everything the tutor Jen taught us she demonstrated first, then sent us back to our stations to try for ourselves. It was very hands-on and well organised. In a class of eight Jen had enough time for each of us.
There was lots of information on preparing different types of vegetables – we chopped carrot, pepper, daikon, little gem lettuce and radicchio, and made a dressing using chilli, garlic, red onion and ginger. Along the way we picked up tips such as how to chop an onion finely without crying (leave the root on) and how to de-seed a chilli and remove the peel from fresh ginger using a spoon.
Jen also showed us how to sharpen a knife, but she recommended taking your knives to the local butcher or better still contacting the Clapham knife sharpener. She also suggested that we don't put knives in the dishwasher or store them in drawers, where they clash and chip with other utensils. A block is fine with the knife inserted upside down. When buying knives try them out first in a big department store to check they suit the size of your hands.
All the chopping produced an early supper: chicken and noodles with a zesty Asian salad. All in all the course exceeded my expectations and I learnt many useful tips about food preparation as much as knife skills. On a down side the aprons we used weren't neat and fresh.
The course left me with one dilemma: should I get my three kitchen knives sharpened or invest my next spare £50 (note to brother – it's my birthday soon!) on a couple of decent knives?
Lynne Robinson writes a design blog Tea for Joy and runs online stationery store Papermash
Contact: Cookery course report: Knife skills at Recipease