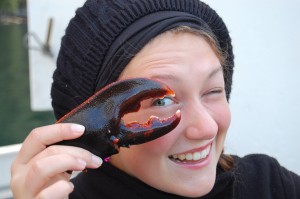 Welcome to Looking to Cook, the only site on the Web that offers independent and comprehensive reviews of the best cookery schools and courses in the United Kingdom and Ireland.
Our aim is to get you into the kitchen. Whether you're looking for a smart weekend cookery course in a country hotel or an express lunchtime cookery lesson in the city, a longer professional culinary course at a well established academy or a specialist artisan chocolate-making class, Looking to Cook will help you to find the right one.
We want you to discover new culinary skills and take them home to share with friends and family. There are hundreds of exciting courses out there: try a taster for Lebanese cooking or Vietnamese cuisine; learn how to roll sushi, make upside-down pudding the right way up or fillet a fish properly.
Our team of experts has been visiting cookery schools for many years, and we know the right ingredients for a great experience. Use the search tool above to find the course for you. Check out the Looking to Cook Flickr photo stream here and follow us on Twitter for all the latest cookery school news and course offers.
Here are some of our recent features in the national press and mainstream media:
The Daily Mail: Cooking up a storm: The alternative summer courses for budding Junior Masterchefs
The Times: Why learning to cook is a recipe for romance
Brit Mums: 8 of the best student cookery courses
MumsNet: 10 of the best Christmas cookery courses
Beyond Baked Beans: Student cookery courses 2011
About.com: Five best UK cooking schools with rooms
Yahoo.com: Website of the Day
Delicious Magazine: "Looking to Cook helps you find the ideal cookery course with just a quick search. Highly recommended." May 2012
National Geographic Traveller: Looking to Cook founder, Nick Wyke, is quoted in a round-up feature on "Homegrown" cookery schools July 2013
Looking to Cook has been set up by Nick Wyke, a freelance writer and editor at The Times, where he is responsible for developing a range of creative and interactive content from commissioning food and wine video series, building communities through socia media, and hosting live chats and Q&As with leading figures from the food industry.
Nick moved to Times Digital five years ago to set up the Real Food Directory and has written widely across all sections of the paper specialising in food and drink stories with an expertise in local, artisan and seasonal food in the UK. He started his journalism career as a features writer for UPI based at Rome's Foreign Press Centre before two years as a sports reporter across national titles. He is the author of the Artichoke blog focusing on seasonal British food and drink.
We work hard to make sure that your listing is both up-to-date and accurate. However, if you know of any inaccuracies or changes that need updating, please let us know.
© 2015 Lookingtocook.co.uk. All rights reserved on all content on this website.