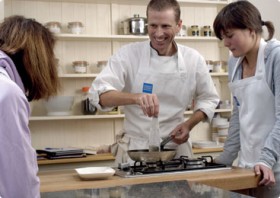 Basic ingredients: One of the UK's leading cookery schools, Ashburton offers more than 40 cookery courses from beginners to advanced cooks, and from Taste of the West Country, to tapas and gluten-free courses. One, two and five-day residential courses as well as a 20-day diploma are taught by Chef Tutors, mixing demonstrations with hands-on practice. Each student is allocated his or her own cook station.
They say: "In 2011 we will welcome over 5,000 students to our cookery school. We have been rated in a number of national publications as among the best cookery school in the country for core skills."
We say:  Friendly, fresh approach and inspired cooking that's strong on fundamental techniques is the sort of feedback that we hear regularly about Ashburton.
Contact: Ashburton Cookery School, Old Exeter Road, Ashburton, Devon TQ13 7LG