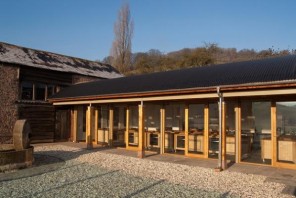 Basic Ingredients Gloucestershire' s Forest of Dean provides the historical hillside setting for this new cook school (opened June 2011) at the Hart's Barn Rural Enterprise Centre. Boasting a calendar as fruitful as the surroundings, the school averages around a course a day. These never cost more than £90 (two-day student survival course) with specialist classes in artisan bread-making, chocolate, macaroons, pasta and preserves priced at approximately £40 – £50. Guests often pop in to host a masterclass, such as regular contributor Lindy Wildsmith from Blaenavon's the Chef's Room, while other bespoke corporate events and community cook parties for both adults (Forage and Cook) and children (Pop and Corn) run regularly. The school even runs it's own monthly farmers' market.
They say The Forest of Dean's premier Cookery School is proud to offer cooking for all, from basics to banquets.
We say This is a really dynamic and inventive school with a terrific range of classes for all ages. For a regular taster drop into the school between 10am – 12pm on a Tuesday and join in their Cook Club. It promises to be an informal meeting of culinary minds with some demos and occasionally a bit of hands-on cookery. No subscription required, just pay £10 on the day. For those looking to make a weekend of it, there are ample affordable accommodation options in the Forest of Dean.