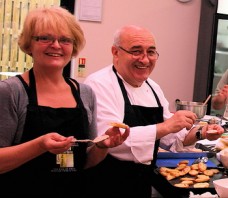 Basic ingredients: Set in a modern kitchen in the World Heritage listed town of Blaenavon, the Chef's Room adjoins long-standing fishmongers and food shop, Vin Sullivan's. The school is run by cook and food writer Lindy Wildsmith and Franco Taruschio, the Italian Chef who won a Michelin Star for Abergavenny's Walnut Tree restaurant. Both Lindy and Franco alternate tuition of most courses, which last half a day, cost £75 and range from easy entertaining to the ever popular Italian/Welsh fusion. Guest chefs (including an annual appearance from Shaun Hill) drop in to host courses throughout the year and each course includes lunch and a free glass of wine and a chance to browse the 'Aladdin's Cave' of produce that is Vin Sullivan's shop.
They say: We may be called the Chef's Room but we do not want to teach you to be a chef; we want you to be cooks who enjoy what you do and pass on your enthusiasm to everyone around you.
We say: The school is particularly strong on seasonal courses and seafood. Divertimenti's own Claudine Boulstridge has recently joined the team, adding French, Thai and Lebanese cooking to the school's expanding repertoire.
Contact:
The Chef's Room Fish and Cookery School, Vin Sullivan's, Thomas Gilchrist Estate, Blaenavon, Torfaen NP4 9RL
01989 562353;
thechefsroom.co.uk/index.html