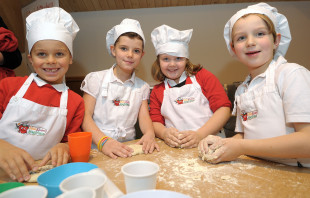 Basic ingredients: Cookery workshops run by dynamic school owner, Lizzie Heath, see two-to-11 year olds, parents with weaning babies and families conjur up some dazzling dishes, the variety of which would impress cooks of any age and expertise. Courses are held during both term-time and holidays on Saturdays. Lizzie's pop-up cookery school is fully mobile and travels to different venues equipped with portable mini ovens, a sink, chopping boards, saucepans and smoothie makers.
The six-week summer course, held each Saturday at Heartlands near Redruth, a bumper World Heritage Site with something for all the family, includes recipes that traverse the globe. From Turkish borek to chorizo empanadas, parents and their progeny experience some adventurous cookery. Dishes are prepared from scratch using local ingredients where possible. The school ethos supports the idea that cookery is one of life's essentials, developing motor skills, confidence and even academic ability. Workshops include an arts and crafts session, based around a specific food-related subject, and conclude with recipes and food for the onward journey. There are also private consultations on offer that provide cooking tips alongside health and safety advice and birthday cooking parties for six-to-11 year olds, which take the pressure off the rest of the family. 

They say: We offer teaching, guidance and support with the vision to learn and enhance a life skill; increase food knowledge and field-to-fork awareness. At the same time we give the child and the parent increased quality time together, greater confidence in food preparation and cooking and some delicious food to takeaway.
We say: Lizzie is incredibly creative with her classes and not afraid to introduce children to some exciting and culturally relevant ingredients. The focus is not on short-term dietary fads but rather on cookery that supports long-term health and wellbeing. Her outreach, from primary schools to food banks, is impressive. We particularly admire the way classes take into account the constraints of modern family living, promote healthy meals on a budget, food labelling and awareness of local, seasonal foods. Jamie Oliver would approve. To top it off, its location at Heartlands has year-round, weatherproof entertainment for all the family, from art exhibitions and a giant adventure playground to art and craft studios and a café in the old carpenter's workshop.