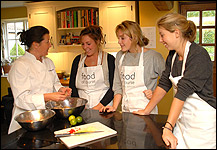 Basic ingredients: Food of Course is a residential cookery school based at Middle Farm House in Somerset. The 4-week foundation course, which promises to set up students with cookery skills for life (and possibly land them a seasonal job), is held in a 16th- century thatched farmhouse kitchen with all mod cons. The school is run by the former head of The Grange cookery school, Lou Hutton, who invites specialist cooks to teach themed days, and targets gap year students and those who aspire to work in ski chalets or on yachts. The price tag is a hefty all-inclusive £3,350.
They say: We're able to totally change your thinking about food and cooking whether you are already a competent cook, or whether you have yet to master beans on toast.
We say: There's a busy timetable to be followed here but also a sociable vibe to courses. Hutton, who's been there done that, distils her experience into valuable insider tips. This is a useful, practical gateway into the fierce hospitality industry.