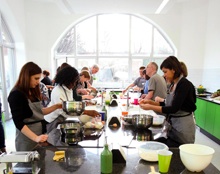 Basic ingredients: Sheba Promod has been a cookery tutor and freelance writer since July 2011 after she left a secondary school teaching post to pursue her passion; a love of food that stems from observing her mother in the kitchen, who gave Sheba free reign to experiment from an early age. This informs her current approach to her beloved Keralan cuisine, which features both traditional recipes and dishes given a creative twist. Students can get stuck into preparing and sampling dishes such as Kerala Kuruma, Cabbage Thoran and Fish Molee if attending a Flavours of Kerala & The Malabar Coast cookery course. Groups of eight per class guarantee some one-to-one attention and spice tasting sessions promise to hone those keen curry senses. All classes cost just under £100 and are held at either Central Street Cookery School in London, Devilled Egg Cookery School in Bristol or the Women's Institute Cookery School in Oxfordshire with private tuition based in Hertfordshire.
They say: If there is one lasting feeling I hope you leave my course with, it's an understanding of how remarkably different Keralan and South Indian food is. Our dishes are light, fragrant, distinctive and reminiscent of the delicate coastal flavours of this region. Simple by nature – these recipes are easy enough to add to any of your mid-week suppers.
We say: It's great to find a specialist in South Indian cuisine. Clearly passionate and devoted to her subject, the Absolute Indian website is a treasure trove of culinary musings, recipes and ideas. Also look out for Sheba's Supperclubs, which are proving highly popular.
Read about Sheba Promod's kitchen secrets