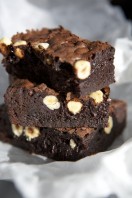 Basic ingredients: There is pretty much the full range on offer here for budding bakers, from an introduction to baking, French, Italian and Scandinavian classes through to macaron, pastry and cake baking masterclasses. Located in St John's Wood, classes are taught from the stylish 'Baking Lab', where students can 'Bake with Maria' or one of her highly-experienced pastry chefs. Maria Mayerhofer has been baking since childhood and started teaching students home-baking from her own kitchen before establishing the Lab in November 2011 to meet accelerating demand. Introductory classes cost £85 for three hours, £125 for five-hour classes, and £145 for masterclasses. All include food on the day and students take home the fruits of their labour.
They say: It is important that everything taught in the Baking Lab can be replicated at home without fancy ovens or endless pieces of baking equipment. Baking your own bread is not only fun and rewarding, but it adds to a healthier lifestyle.
We say: The 'Baking Lab' may sound daunting but there is no blinding with science here. All equipment is top of the range but suitable for domestic use and the 'lab', which is described as 'industrial vintage', is designed to evoke the comforts of the home kitchen. Maria runs a sound small business in an intimidation-free environment. She is backed by a small but passionate team who love to share their knowledge and experience.
Contact:
Bake with Maria, 2nd floor, 81 Loudoun Road, London, NW8 0DQ
0207 998 1634;
www.bakewithmaria.com