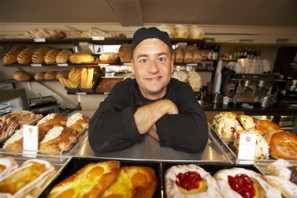 Basic ingredients: Specialist baking from Great Taste Award gold star winner Paul Barker (pictured) less than an hour on the tube from Central London. Hands-on courses for the master baker, the enthusiast, and children, are run out of a cinnamon and cocoa toned 'scientific baking laboratory' known as 'The Makery'. Courses include master classes in bread and cake making, patisserie, The Art of Chocolate, Italian style bread and pizza. Run alongside a shop that attracts a following of faithful customers from far and wide. Prices from £30 to £140.
They say: We are obsessed, in a good way, with bread and baking. Try our signature cream-cheese topped cinnamon squares, which are hand-made daily in store, warm and gooey, straight from the hot plate.
We say:  Good for cooks with a basic knowledge of making traditional bread doughs keen to learn new techniques at a bakery school with a reputation for passion and detail. And don't miss the chance to try their Ricky Sticky bun, which scooped the Speciality category gong at the World Bread Awards 2013.
Cookery School Q&A: Cinnamon Square's head tutor Paul Barker reflects on Britain's secret bun, his prized starter culture and the quest for perfection in baking
Contact:
Cinnamon Square, 7-9 Church Street, Rickmansworth, Hertfordshire WD3 1BX
01923 778353;
www.cinnamonsquare.com