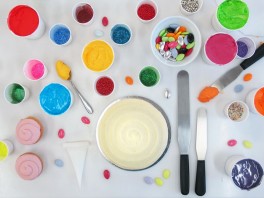 Basic ingredients: The doyens of London cake-making, Konditor & Cook operates two Cake School sites in Borough Market and on Stamford Street. Classes such as Creative Cake Decorating Day help to master some classic skills, giving students the opportunity to make piping bags, learn about colour work, icing techniques, sculpt marzipan and experiment with decoration and design. At £125, this six-hour class culminates in each person customising their very own 7" Curly Whirly cake. Testimonials praise the fact that the cake and biscuits scoffed throughout the day more than cover the price of entry, but also included is five hours of tuition, drinks, lunch and plenty of sweet treats to take home. The Cake Decorating Masterclass follows a similar format but with the added boon that tuition comes from Gerhard Jenne, the founder of Konditor & Cook. This additional expertise is priced at £175 and class size is kept to 8 participants. Two-hour evening classes introducing cake decorating cost £65, and for £25 a 45-minute lunchtime class, Decorating Express, provides the time-strapped with basic signature icing and piping techniques. There are also Birthday Parties, Corporate Events and Hen Parties available to book by calling the exclusive Cake Hotline.
They say: Our Cake School is unique: taught by our very own decorators, you'll learn skills from the pros while using ingredients and tools you can get hold of anywhere. We hope your time at Cake School is sweet, and you learn that decorating is a piece of cake!
We say: The Konditor & Cook Cake School would suit anyone who has marvelled at the beautiful creations that adorn K&C's shop counters. Classes, much like their celebrated cake designs, provide experimental fun and inspiration to the absolute novice, but they also promise that tuition can be adapted to the more experienced.
Contact:
Konditor & Cook Cake School, 63 Stamford Street, London, SE1 9NB
Call 020 7633 3333 or email enquiries@konditorandcook.com for corporate or group bookings;
www.konditorandcook.com