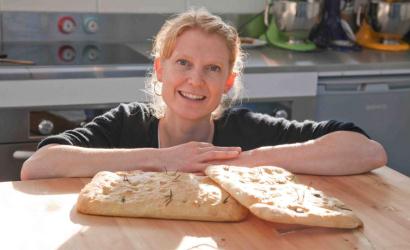 First food memory?
Eating rye bread topped with canned mackerel in a tomato sauce – a children's favourite in Denmark.
First cookery skills?
Making spiced cookies and marzipan treats for Christmas. We shaped them in to trees and santas using lots of bright food colouring.
Favourite ingredients?
Flour, butter, cardamom. Butter is the new superfood and cardamom is the best spice for both savoury and sweet baking.
Recipes or improvise?
Recipes (and once mastered I like to add my own twist!)
Most underrated dish?
Potato salad. I could live on potatoes alone and in the summer a potato salad with lemon olive oil, capers and rocket salad is a weekly favourite.
Indispensable kitchen gadget or utensil?
Dough scraper, it makes kneading, shaping etc a lot easier!
Tell us a top cookery tip?
Don't use flour when handling your dough – use water instead
Eat at home or eat out?
Eat at home. Preferably cooking with friends and family.
What's Britain's best kept food secret?
Elderflower. Shop bought elderflower cordial is okay, but the one you make yourself with flowers picked from the neighbour's garden is even better.
What are the key ingredients for a successful cookery class?
Open-mindedness and the appetite to have a good time whilst picking up new skills.
Click here to find out more about Maria's range of baking classes in London
Contact: Cookery school Q&A: Maria Mayerhofer, Bake with Maria