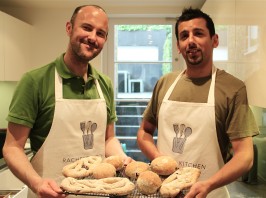 Basic ingredients:  Anyone daunted by the prospect of cooking a meal from scratch but keen to learn would no doubt be inspired by Rachel Davies' story. Working in a village in Zambia, with no supermarket, she taught herself to cook from scratch. This was followed by a Cordon Bleu diploma in Cuisine and Patisserie and experience in high-end establishments including Galvin Bistro de Luxe and Lanka Patisserie, eventually leading to the opening in London of Rachel's Kitchen in June 2010. Here students learn to cook using only quality ingredients, so still no supermarkets! She offers an impressive variety of classes from 'Skinny food', tapas and edible gift making to 'Wedding Favours', sushi and several options for keen bakers. Most classes last 3 hours including bespoke classes tailored to the individual, priced at £220 for one or two people but dropping to £90 per person for a group of four. These can take place at the eponymous location, your own home or at a number of hired venues.
They say: With her relaxed approach, fun teaching style and hearty flavours, Rachel has become the chef of choice for both private and corporate clients, and for brushing up on your cooking skills while smiling at the same time.
We say: Rachel can be contacted for a pre-class consultation via her easy-to-navigate website. One clever option allows you to bring your own ingredients, which reduces the cost of the class.
Read about a recent Tantalising Tapas cookery course hosted by Rachel