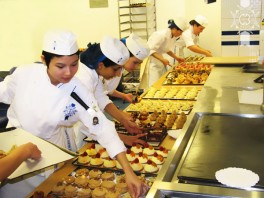 Basic ingredients: Classic, world-renowned cook school whose diploma is recognised in the industry as being one of the best. With campuses all over the world, including Peru, Canada and Japan, the London school opened in 2010 and offers cuisine and pâtisserie certificates and diplomas, and short-term courses for food enthusiasts. A second school is due to open in 2012 with a wider range of shorter courses.
They say: Our diverse mix of students creates a unique and multicultural learning atmosphere. We aim to ground students in classical French technique with hands-on experience in the closest thing to a real restaurant kitchen.
We say: A great culinary and life experience. A word to the wise: the best value afternoon tea in town is held on select dates, when the Superior Patisserie students show off their new found skills to the public.