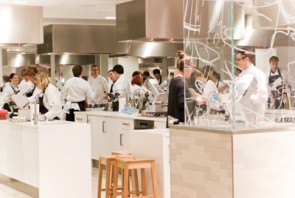 Basic ingredients: Based above  the handsome Art Deco Waitrose store in Finchley Road, the first Waitrose cookery school has ash blonde wooden floors and is kitted out with John Lewis gear and stacks of Le Creuset pots and pans. It has a large eating/relaxing area with a bar and shelves of cookery books. The kitchen has 12 individual stations, each with its own fridge, oven, hob and Joseph Joseph colour coded chopping boards. There's space for 24 students per course – with demos in a hi-tech theatre. Day and evening courses proving popular so far include Michelin star, Thai, knife skills, and cocktail making.
They say: We have a strong team of professional chefs several of whom have worked in Michelin-starred kitchens. We want to inspire people to move from just watching cookery programmes to actually cooking and experimenting with ingredients.
We say: As you might expect from Waitrose, this new cookery school raises the bar. The taught courses follow a "demo – taste – cook – taste again" formula that works well. Strong on seafood and fish courses. The school at Finchley Road remains the flagship, but check out Waitrose's new cookery schools in Salisbury and at London's King's Cross.
Read our latest Cookery Course Report here. See Waitrose on our Pinterest cookery schools page. Read about Waitrose Cookery School's first cookbook.