Waitrose is, or bills itself, as the shop for cooks. Whilst you may get good value at Tesco or great ready meals at M&S, Waitrose is the place to go for ingredients.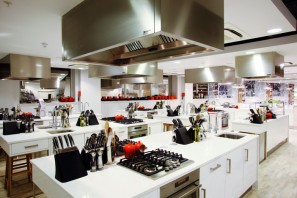 So it seems quite fitting that since November 2010 one of its flagship stores on north London's Finchley Road has a cookery school on top. A state-of-the-art, glossy, Corian-clad cookery school at that, and one I very much wish my kitchen emulated. Particularly if it came with the addition of chef James Campbell. That would solve all my cooking problems in one.
Anyway, back down to earth. Although, I like cooking, and am good at the big events – the roast dinners, strawberry pavlovas and birthday cakes – I some times struggle with the day-to-day act of putting food on the table for my family. I felt bored and stuck in a rut, so I hoped that an £85 simple supper course would expand my culinary repertoire.
It did. Over the course of four hours we learnt how to make three dishes that looked much more complicated than they were and involved minimal washing up. There was one-pot chicken, potatoes, peas and mint; a rack of lamb (not as scary as it sounds) and, my favourite, oven-baked cod with chilli and coriander.
It was very hands-on. For each dish there was a live demo at the front of the kitchen. It was very informal and relaxed, questions were asked, and you could try your hand at the trickier bits of the recipe. For example, boning a fish. It was aimed at all abilities, but snazzier cooks would probably find it a bit basic.
There were 12 on the course (2 men, mostly 30/40 something women) and we cooked in pairs at work-stations and made each recipe ourselves. Fresh, good quality ingredients were provided along with shiny utensils, stainless steel bowls and a trolley to put all our dirty dishes on for someone else to wash up. That was my favourite bit.
The food cooked was fresh and simple. Despite only recently discovering the joys of fish, the cod dish was my favourite. It was all cooked in one pan (less washing up!) and was so full of flavour, I would have happily been served it in a restaurant.
I also picked up some useful tips. This may sound blindingly obvious, but the best way to tell if meat is cooked through is to put the tip of the knife in the centre for three seconds (Normally, I am in and out in less than one) and then hold the knife on the inside of your wrist to see if it's hot.
Also when frying onions, if you want them caramelised, then don't add salt. If you want them with no colour, add salt. This has something to do with the salt, drawing out the vegetable's moisture. A useful tip for those, like me, who consider crispy onions an essential accompaniment to hot dogs.
After each dish, we sat back and enjoyed the fruits of our labour. There was wine, pop music, conversation. It felt more like a night out than a cookery class. Either that or we'd stepped on to the set of Saturday Kitchen.
Waitrose Cookery School also does courses on baking , sauces, fish, cake-decorating. In fact pretty much everything you can shake a wooden spoon at.
Contact: Cookery course report: Waitrose Cookery School