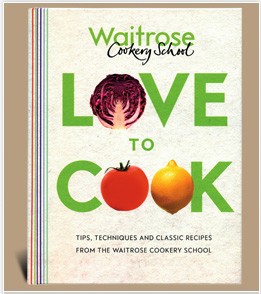 With the exception of Leiths' range of food Bibles, not many cookery schools have released their own cookbook. But the culinary force that is Waitrose opened an impressive cookery school above its store in Finchley, North London last year and a book has followed hot on its heels.
Like the school, Love to Cook is a well produced and blooming useful book. It claims to deliver 'the collective wisdom of the Waitrose Cookery School chefs', which seems a bit like giving away trade secrets to me.
Clearly presented, the recipes look manageable – somewhere between simple midweek suppers and dinner party specials. The chapters are themed by food types and when the Vegetarian section is as good looking as this – the Sri Lankan cashew nut curry and ribollita look amazing – you know the others will follow suit. The step-by-step photographs for the 'basic techniques' chapter are useful and easy to follow (even if the text is tiny) but there are only nine techniques, including a brief lesson on knife skills, how to joint a chicken and how to make spring onion mash. The book is peppered with handy chefs' tips.
The hardback price of £25 – a fraction of the cost of an actual cookery course – is pretty much the going rate for a cookery book these days but savvy buyers will presumably be able to find it cheaper soon enough. And although it distils a  mass of useful information from the school's knowledgeable team, it's a tantalising shop window and will encourage readers to sign up for hands-on courses.
Looking at the fresh, happy faces of the kitchen team in the book's pages it can't be long before the TV series follows.
Be warned: the www.lovetocook.co.uk website will take you to an Australian woman offering spicy cookery classes in Clapham Old Town.
Contact: Waitrose Cookery School serves up cookbook