With so many talented cookery school tutors out there we thought it would be a great idea to put together a list of really useful tips taught at cookery schools. Whether you're a chef/teacher at a cookery school or a student who's completed a course please send us your tips for inclusion to info@lookingtocook.com.
Here's a couple of tips from Joy Neal at Blackheath Cooks in South-East London:
1. After cutting garlic rub your fingers on a stainless steel teaspoon under running water. It's magic. The garlic smell vanishes in seconds – no soap needed!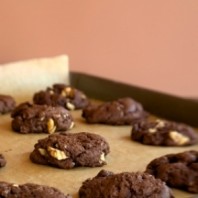 2. Throw out the greaseproof paper and buy some baking parchment instead. Use it to line your trays for everything from roast potatoes to meringues… nothing sticks and it saves on washing up.
3. Egg pasta, fresh or dry, tends to become very dry when cooked and drained. It is essential to keep at least one ladle of cooking water to add to the pasta while dressing it. You'll be surprised to see that in a few minutes all the added water will have disappeared, leaving your dish really moist. (Ella Prichard at corporate cookery school Venturi's Table in South-West London)
4. To skin tomatoes, cut a small cross on the base, place in a bowl, cover them with boiling water and leave for 1 minute. Drain and cool slightly. The skins will be easy to peel. (James B's tip from the Waitrose Cookery School, North London)
5. Alexis of Dancing Trousers cookery school in Oxfordshire says to lightly oil a spoon before adding sticky substances such as honey or treacle when baking – that way it will just slide off the spoon. Or dip into cup of boiled water first, has similar effect.
6. When I had trouble peeling a hard boiled egg recently I was sent a wave of helpful and consolatory tweets which suggested dunking the egg in iced water before peeling, peeling the egg under water, putting bicarb of soda in the boiling water, allowing them to cool then rolling them gently on the work top a couple of times and finally not using super fresh eggs.
7. To stop milk boiling over so quickly and burning dilute it with some water, says Trevor Hambley of the Beach Bistro cookery school in Rye, east Sussex.
8. It is pointless to deep fry or cook foods at high temperatures using extra virgin olive oil. Hambley uses a third-press pomace olive oil, which has been extracted from the olive pulp after the first press. When buying in the sort of large quantities that restaurants use this makes for a savvy saving.
9. Theo Randall, who runs monthly Italian flavoured cookery courses at his restaurant in central London, says to slightly undercook pasta, finishing the cooking in the pan containing the sauce, as this will ensure all the flavour is locked into the resulting dish.