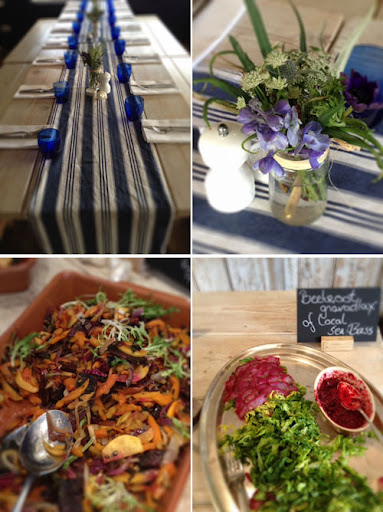 The Boat to Plate cookery course at the Gallivant Hotel in Camber Sands starts with a trip to meet local fishermen at a fisheries in the port of Rye. It's an honest encounter, where the fisherman takes large cod, small dab and whiting – some still flipping – from crates and fillets them while telling seafaring stories. How, for example, as a five-year old he hawked buckets of fish from door to door and caught a rare sturgeon as a teenager – faded photos are passed around to prove these feats. The course's chef Trevor Hambley is with our group, too, to dispense culinary tips and select his menu for dinner.
Back at the hotel,  the two-hour course takes place in a marquee next to the Beach Bistro. It's beautifully laid out for 12 students, with recipe folders, spring flowers in jars and bottles of cordial on the horseshoe of trestle tables and our names printed on the back of a scallop shell. The course focuses on the dishes we we will eat for dinner later and includes warm Dungeness salt cod with garlic toast and crisp duck egg, Rye Bay scallops, butternut squash and local black pudding and Gallivant Sussex pond pudding with blackcurrant sorbet. Perfectly local and seasonal.
It's largely a demonstration affair sprinkled with professional kitchen confessions from Trevor which are insightful – such as diluting milk with water so it doesn't burn and how, despite his commitment to local food, he still buys mussels from Scotland for their consistency and flavour and uses third-grade olive oil if cooking at a very high temperature.  It is a little hard to see from our seats so we gather around the chef's teaching table at critical points. The dishes are well chosen and finished to a high standard. Along the way, we learn to open a scallop and taste test the local seafood with cheapo supermarket scallops – the former are juicier and have a soft texture. It's a relaxed but informative affair that could benefit from being a bit more hands-on and flowing.
Later we eat some of the dishes from the course for dinner in the warm convivial bistro. As a bonus Trevor has prepared the cod (bright white, soft and fleshy in its freshness) and and some Romney Marsh lamb (streaked with natural flavour), all served with English wines, including a quaffable pinot noir from the Gusbourne Estate, Appledore, just across the border in Kent. I'm not sure anyone managed to finish an individual Sussex pudding, which were hearty winter afters. Given that the experience is part of an accommodation deal package – the cool, marine themed rooms have a motel feel – for around £169 it's a pretty tasty deal.
For more cookery courses in South-east England ; read another review of a cookery course at the Gallivant from Lynne at Tea for Joy
Read this article on About.com for more weekend cookery getaways
Contact: Cookery course report: Gallivant Hotel, East Sussex