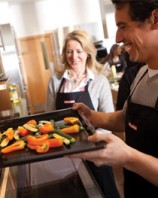 Basic ingredients: The Miele Creative Living concept showcases its range of kitchen products via cookery courses, demonstrations and appliance schools, in Abingdon, London and Sutton Coldfield. Not strictly limited to Miele disciples, there are pre-purchase Let's Do… tutorials – for those planning a new Miele built-in kitchen – and food courses taught by home economists, which aim to provide students with essential cooking techniques. The latter range from bread-making, pastry and cupcakes to French and Italian masterclasses, which generally run from 10am to 4pm and cost £125. Interactive Let's Do… courses help customers plan their Miele kitchens by highlighting the most suitable appliances, with an opportunity to browse the showroom and arrange a consultation with a product adviser. As the name suggests, Let's Do Steam showcases the versatility of their steam ovens and is excellent value at £20 for three hours. Many Owner courses also centre around the use of the increasingly popular steam oven, and for those feeling slightly overwhelmed by their newly fitted Miele kitchen, the Owners Starterclass, at a cost of £30, aims to help customers get to grips with their dazzling array of appliances.
They Say: For lovers of great food and cooking, from baking to world cuisine, there' s a course for everyone. Our chefs and home economists will help you to take your skills to the next level so you can impress with your culinary expertise.
We Say: As a leading name in built-in kitchens and modern appliances, Miele has hit upon a smart concept with Creative Living.  All courses are hands-on and demonstration, which is what gives their appliance tutorials an interactive, fun and informal spin on the idea of 'try before you buy'.