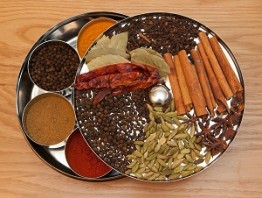 It was fitting really that the outside temperature was over 30C at Central Street Kitchen, in Clerkenwell, London, where former school teacher Sheba Promod was hosting her Saturday morning class on Southern Indian cuisine.
The school is a dream community facility. Its new kitchen is large, very light and airy and we were able to open back doors on such a stifling day. There were about a dozen of us, mainly men, gathered around the long central island.
To start, Sheba talked us through her spice collection – the whole spices which are used first for tempering in smoking hot oil and the ground spices, used for added flavour. We passed around pots and sniffed and tasted each of them. In this class we were using subtle, mild spices, combined with cooler flavours of coconut, cashews and coriander which suited me fine.
We then broke off into pairs and each took a station around the kitchen which had a mix of induction and gas hobs. Next, following well written recipes, we worked our way as a group through the five recipes that we were cooking for lunch, with Sheba and her helper checking our progress along the way.
It was a good way to run the class, enabling each of us to cook all of the dishes and get plenty of hands-on action. We braised chicken with cashews and poppy seeds, adding fudge-like jaggery and lime juice for a refreshing sweetness; haddock with coconut, green chillies and garlic; cabbage thoran – a finely minced white cabbage cooked with garlic, mustard and coconut; ulli pachadi (onions with yoghurt and ginger) and a delicious lemon rice that included nuts and two types of dal.
It was helpful to learn about the order of use and quantities of spices required in the dishes, what they combined with well and how quickly they cooked. Sheba was clear and knowledgeable in this and peppered her directions with family food reflections.
By lunchtime, it felt like we had achieved quite a lot. Apart from the odd tasting spoon along the way we'd had nothing to eat since breakfast, which is really just how it should be before a feast. Outside in the warm shade, with the dishes spread out on a long table in the school's back yard, if we closed our eyes briefly we could have been in Kerala.
Absolute Indian cookery classes cost £99 and run from 10am to 2pm
Contact: Cookery course report: Absolute Indian, Flavours of Kerala