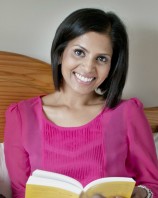 First food memory?
Making butter cookies with my mum using an old heavy-duty cookie press.
First cookery skills?
Making chapatis the way my mum did.
Favourite ingredients?
Cardamom, coconut oil and black pepper are spices I could not live without; the latter two in particular transport me back to my mum's kitchen, regardless of where in the world we lived. They have a wonderful aroma that is 'home' to me – comforting, mellow coconut and warming and pungent pepper. In unison they are perfectly balanced.
Recipes or improvise?
Start with recipes to help you develop your strength and confidence  to improvise.
Most underrated dish?
Yoghurt based side dishes – there's more to it than raita!
 Indispensable kitchen gadget or utensil?
My spice grinder.
Tell us a top cookery tip?
Cook your onions slowly to allow them to release their sweetness, a balancing component to spicy dishes.
Eat at home or eat out?
I've always been brought up on home food so it's home all the way.
What's Britain's best kept food secret?
The very modest canteen style South Indian restaurants in areas such as Hounslow, they often have the best food!
What are the key ingredients for a successful cookery class?
Good planning and prep, an enthusiastic teacher and opportunity to learn something truly new.
Contact: Cookery school Q&A: Sheba Promod, Absolute Indian