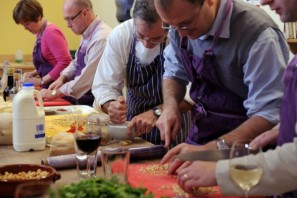 Basic ingredients: Formerly based at Bordeaux Quay this community-driven and sustainably minded cookery school founded by Barny Haughton has shifted across town to Knowle West. There are evening one-pot wonder courses and daytime classes in puddings, cakes and pastry as well as workshops and activities for schools and community groups. The emphasis of most of courses, some of which run across three terms, is on learning, not just entertainment. Square Food provides the basic building blocks
of cooking and teaches students how to make the most out of ingredients.
They say: We want to transform the way people think and feel about food.
We say: Learn how to cook with confidence; book a whole term's worth of classes and get some of the best-value around.