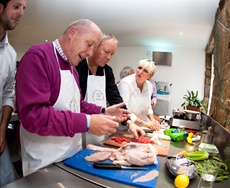 Basic Ingredients: Described as the cornerstone of Newcastle's historic past, the banquet hall here is a nod to the restaurant's medieval roots and origin as Dominican Friary, established in 1239. Considered an institution by locals, the restaurant was opened in 2001 by Andy and Sam Hook and is run by manager, Ruth Hall and head chef, Troy Terrington. Observer food critic, Jay Rayner, is a fan of the cooking and the team share their knowledge and enthusiasm for crafting produce 'from first principles' through a series of cookery classes. Taught from the workshop and demonstration area, which overlooks the cloister garden, classes accommodate 12 students and cost from £65 to £95 for 6 hours. Themes include artisan baking, chocolate making and dinner parties as well as the self-explanatory Ladies First and Our Little Monks and Smart Cookies Clubs for kids aged 8-12. Students take home their creations and all classes include plenty of food on the day with wine for the adults.
They say: The food that's served in restaurants can often seem as complicated as it is impressive but we're here to show you that great food isn't too difficult to prepare at home! Each participant will be encouraged to prepare various elements of a meal using fresh, local and seasonal produce which will all be brought together for you to enjoy at the end of the workshop over a glass of wine and a chat.
We say: Blackfriars makes the most of its medieval setting and genuinely sources its ingredients from a superb range of local producers in the North East. The restaurant was voted 'Best in Newcastle' by Observer readers and classes are proving popular as they tend to sell out fast.