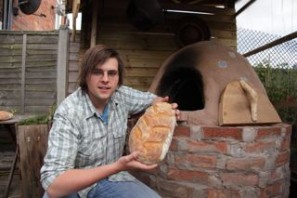 Basic ingredients: The aptly named Tom Baker has been branded the "culinary Robin Hood" of Birmingham for his community cookery school that he runs from his home, a mid-Victorian terrace in Cotteridge. A self-taught artisan baker, Tom offers regular breadmaking courses, making the most of the hand-built, four-inch-thick, clay oven in the garden. Small classes of no more than six students include Back to Basics with Bread, Handmade Pasta and Butchery Skills. Day courses are £75 and evening courses £30. Not surprisingly they sell like hot cakes.
They say: I want people to eat better and learn some of the skills that we've lost – most cooks used to know how to bake a loaf and take a chicken apart. Loaf differs from most commercial cookery schools in that it's aimed at reaching the wider community and as a social enterprise profits are ploughed back into subsidised cookery classes.
We say: Tom is ploughing his own furrow as a real food pioneer and his passion for his field shows through. His project has been a big hit for the local community and sets a great example to others. Check out his Forage and Cook courses in the summer.