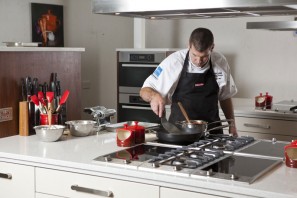 Basic Ingredients: The professional and fully equipped kitchens at the Coghlans Cookery School in Chesterfield host a vast array of courses, aimed at all levels, that can be purchased for £150 for a 7-hour day. There are the usual suspects here such as fish and seafood, game and plenty of dessert courses, alongside artisan tuition in bread-making, butchery and sausage-making. But they also offer lessons for men only, teenagers, diabetics and coeliacs as well as a Lunch Club and Demo and Dine evenings from £25. The majority of courses are led by co-founder, Janet Coghlan alongside resident chef tutor, Simon Lilley. You can also contact them to arrange private dining, outside catering or corporate days.
They say: Whether helping inexperienced cooks like dads and teenagers brush up on their basic skills, or more adventurous amateur chefs planning the dinner party of a lifetime… All you have to do is show up – preferably in a comfortable pair of shoes.
We say: For cookery class junkies there are some good value packages available. The school places almost as much emphasis on wine through its sister company Barrels & Bottles. A one-day course hosted by wine expert Andrew Coghlan, includes lunch and promotes wine regions and their history. An entry-level course teaches varietals and tasting techniques, while the Investment Wine Course hones the art of keeping a well stocked cellar with the opportunity to sample some superior vintages.