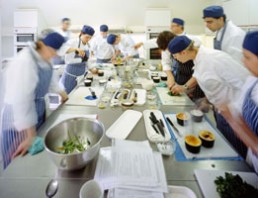 Basic ingredients: Set in a Victorian mansion in secluded grounds in Surrey, the acclaimed Tante Marie Culinary Academy is the largest independent Cordon Bleu school in the UK offering courses to novices and aspiring chefs. Courses are designed by the Gordon Ramsay Group and are listed under the categories professional (for the career minded), lifestyle (for the passionate domestic cook) or courses for gap year students. The school has five large teaching kitchens, a demonstration theatre, classrooms, library and gardens.
They say: We have been training chefs for over 50 years, and students from all over the world come to take our courses.
We say: The comments box below speaks for itself. This is a sound option whether you're considering cooking as a career move or a handy life skill. Look out for guest chef days with the likes of Adam Byatt and Tristan Welch and the Men Only! course comes recommended.
Read a cookery school Q&A with the academy's director Andrew Maxwell
Contact:
Tante Marie Culinary Academy, Woodham House, Carlton Road, Woking, Surrey GU21 4HF
01483 726957;
www.tantemarie.co.uk