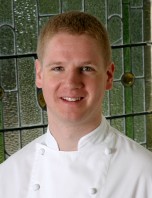 First food memory?
Cooking pancakes with my godmother on a skillet over an open fire, at her home on the Scottish island of Islay.
First cookery skills?
One of the first things I learned how to do was to make butter. We used to have a regular supply of fresh, unpasteurised milk, and would skim the cream off the top and churn it.
Favourite ingredients?
Tomatoes, but only really good ones – ideally just picked and still warm from the sun.
Recipes or improvise?
Hmm – depends. At home, improvise. At work, recipes all the way – the only way you can guarantee consistency is by following a recipe and even in the best restaurants in the world, very often they still follow set formulas.
Most underrated dish?
I think bread and butter pudding, when made well, is one of the most wonderful dishes in the world. It is so often abused, made badly or simply frowned upon as being a bit cliché, but when the custard has soaked into the bread, it has a good vanilla flavour and the top is golden and crispy, there are few puddings I enjoy more.
Indispensable kitchen gadget or utensil?
A really good quality spatula. Margins are everything in this business, and the little bit of food that is left on the outside of the bowl is your holiday at the end of the year when it is your own business.
Tell us a top cookery tip?
When seasoning food, get the salt in early. Salt is a flavour enhancer, not a flavour in its own right, and the process of cooking the salt into food means you will ultimately use less of it.
Eat at home or eat out?
Generally eat at home, but we can all learn a great deal by seeing what other chefs are doing, so every now and again, I treat myself.
What's Britain's best kept food secret?
Scotland! The best raspberries in the world, the best girolle mushrooms in the world, amazing seafood… I've never ceased to be amazed by the quality of Scottish produce.
What are the key ingredients for a successful cookery class?
It's all in the teacher. If the teacher cannot actually teach, the student will not learn. All of our staff are fully qualified teachers, as well as being experienced chefs. I wouldn't have it any other way.
Contact: Cookery school Q&A: Andrew Maxwell, Tante Marie