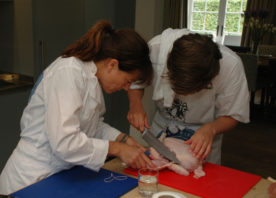 Basic ingredients: Determined to provide teenagers and students with a well-rounded culinary education, Flora, a mother of four, set-up the 'Kitchen' in her rather grand country home in Hampshire in 2015. Flora's passion for cookery began at home in 1970s' Cornwall, where she witnessed her mother drape homemade tagliatelle across kitchen chairs. Formally, she trained at the Institute of Culinary Education in New York after which she gained experience working for Rick Stein in Padstow and highly regarded food critic Geoff Slattery in Melbourne. She also runs regular classes such as Cooking with Confidence and Man Enough to Cook for people of any age and ability. Day courses cost up to £200 for six hours of hands-on cookery and showcase technical dishes such as soufflé and sushi. The two five-day residential courses – University Basics and Learn to Earn – are aimed at young people taking their first steps into the world of college or work. Transport is provided to and from Flora's home, where students stay in big, comfortable bedrooms. When not preparing lunch and dinner students can relax by the pool or let off some steam with a game of tennis, croquet or ping pong.
They say: The ethos of Flora's Kitchen courses is to learn useful new culinary skills in a fun environment by getting involved in anything and everything – you will learn by doing the work. Students of all ages will leave with the confidence to try new dishes, happy in the knowledge they will taste great.
We say: A tour around the website is practically a cookery lesson in its own right – with useful kitchen tips on how to use leftovers, recipes for homemade mayonnaise and seasonal menu plans. Flora's desire to share her passion for cookery shines through. There is still no substitute for the real thing, however, as this will introduce participants to some serious technical skills such as pastry, sauces and plate presentation.
Contact:
Flora's Kitchen Cookery School, Manor Farm House, Lasham, near Alton, Hampshire, GU34 5SL
01256 381296 / +44 (0) 796 750 2852;
www.floraskitchen.co.uk/