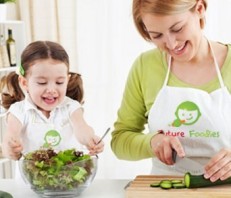 Basic Ingredients: Stephen Billingham cooks with his three-year old, Archie, every week and believes it has led to his son's enhanced appreciation of food. It is this early start in the kitchen that he claims helps people understand the nutritional benefits of food, leading to a healthier lifestyle. This passionate belief and determination has inspired Future Foodies, cookery lessons for children and parents that are geared towards a child's nutritional needs but also promise to deliver delicious recipes that the whole family will want to try, having picked up some culinary skills along the way. Classes are held almost daily, in and around Milton Keynes and tend to last for about two-hours, focusing on single recipes using fresh and often local ingredients. Dishes include things kids should love such as homemade pizza, fruit crumble and the crucially covert, pasta with 'hidden' vegetable sauce and homemade garlic bread. Shorter classes cost about £5 per child, with longer lessons closer to the £20 mark; workshops are held every day during the school holidays.
They say: The earlier we start kids thinking about what they are eating the better prepared they will be as they grow up. All too often I hear of children who can't describe what a tomato looks like, or can't believe that onions don't come already chopped… or my personal favourite: they believe sausages come from pigs' bottoms! 
We say: For those not wishing to expose their nutritional blind-spots to others, Stephen also offers private tuition either at his or your own home. These tend to be hour-long classes and start at £30 for a family of four. All equipment is provided along with guidance on how to recreate the recipes. Future Foodies also offer cookery clubs that can be run from schools and catering for kids parties.