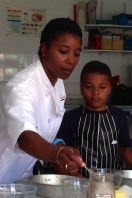 Basic ingredients: Married mum of three and Leiths graduate, Earleen Taylor, kick-started Let us Cook in July 2013 at Overton Grange School in Sutton. Driven by a passion for cooking with her own kids, Earleen strives to help youngsters of all abilities to realise their inner chef and loves to witness the sheer joy this creates. Classes are held during school holidays and range from a fun, family-friendly 90-minute foodie-fest for kids between 5-7, and student survival half-days that cover hearty meals on a budget. The emphasis is on healthy dishes created using fresh produce, all prepared in a relaxed, spacious kitchen with assistance from CRB-checked tutors. Costs are low, with a 90-minute class around the £25 mark; half-day classes, which are primarily for teens and students, typically cost £65; and the school also runs bake-off sessions, birthday parties and prove it's never too late to learn by giving mums and dads the opportunity to get in on the action.
They say: Children are naturally keen to learn to cook and I believe they should be given the opportunity to realise this.  Although the pace of modern life does not always allow them to acquire these skills it is clearly essential they do so for their health, well being and future transition into adult life.  Many children and teenagers are fussy eaters. However, they love to eat and share the dishes they have created themselves.
We say: Testimonials suggest that Earleen's cooking style is professional but unpretentious. As someone who has trained with Antony Worral Thompson, she clearly has the experience to impart some serious cookery know-how. A regular blog, featured on the website, also reveals her ongoing dedication and enthusiasm for her craft.
Contact:
Let Us Cook, Overton Grange School, Stanley Rd, Sutton, Surrey SM2 6TQ
07591151128;
www.letuscook.co.uk