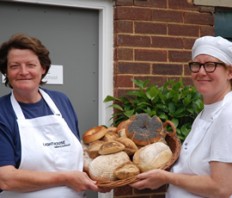 Basic ingredients: Located in the beautiful High Weald countryside in East Sussex, overlooking Bodiam Castle, this artisan bakery school runs a dozen or so different one-day courses, from an Introduction to Baking to American Baking. French, Italian and Jewish baking styles are covered among others. Hands-on courses are held twice a week, and class sizes kept to a maximum of seven students. Courses cost £175, including lunch. There are bespoke courses for chefs and consultancy for professionals looking to open bakeries.
They say: Offering expertise and experience, we want to inspire a new generation of bakers.
We say: Co-owners Rachel Duffield and Elizabeth Weisberg, who used to run the Lighthouse Bakery on the Northcote Road in Battersea, South-West London, are among the best in the business. Look out for seasonal and family courses.
Contact:
The Lighthouse Bakery School, Ockham, Dagg Lane, Ewhurst Green, Robertsbridge, East Sussex, TN32 5RD
01580 831 271;
www.lighthousebakery.co.uk