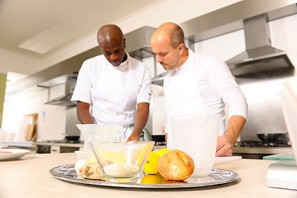 Basic ingredients: Hands-on cookery with a smile is the flavour of the day at this Dorset cookery school, fronted by highly experienced resident chef, Des Burke, who has trained under the Roux family and cooked with John Torode, but now readily shares his expertise with anyone willing to learn. Children and adults are given equal opportunity to pursue their culinary curiosities across a vast range of courses, from knife skills and pastry to vegetarian and international cuisines. Kids aged eight and upwards can enjoy cookery clubs on weekends, after school or on half-terms and holidays, while teens can enrol in a six-week cookery skills programme on Fridays. Prices vary, but are very reasonable, and classes can be purchased individually or in blocks. Adults can also 'join the club' with their own dedicated six-week sessions that range from beginners to advanced and cost from £250 – £280. Shorter classes are held on weekday evenings or Saturday mornings and rarely exceed £100. The school itself is impressively decked out with all mod cons, and plenty of room for students to get stuck in and the kids to make a mess. Everything is provided on the day, and students can take home the fruits of their labour.
They say: Not everyone likes cooking but it's definitely made more enjoyable if you know and understand the fundamentals… all levels of cooks attend our classes and cookery clubs, with many returning time after time to seek trustworthy information.
We say: Take a look at the website to take advantage of various offers. Sign up for free and get a copy of 25 Easy Essential Recipes, a £10 Knife Skills class voucher and a half-price coffee morning voucher, with the chance to win a £60 voucher for anyone who enters their online competition.