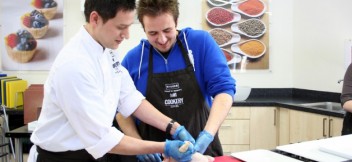 Basic ingredients: It's more than simply preserves on the jam-packed roster of cookery classes run by the WI at Denman near Abingdon in Oxfordshire. Students can choose from a wide variety that includes bread-making, cheese-making, knife skills, creative cooking for diabetics, student survival and international cuisines such as Indian, Italian and French.
The modern purpose-built kitchen lies within the grounds of a beautiful country house. With 69 en-suite bedrooms, residential courses are also an option for those looking to hone their skills across two, three or four days.
The WI team includes many highly qualified chefs. Chef manager Peter Lien trained at Leiths, has worked as a professional chef and previously taught at Divertimenti Cookery School. Guest tutors include writer and teacher at The Chef's Room Lindy Wildsmith and Keralan Cookery expert Sheba Promod of Absolute Indian.
All 12 workstations are fully equipped with an oven, fridge and choice of gas or electric hob. Many of the full-day courses cost members £130 and non-members £140, while morning and evening classes are good value at around £50 for a half day. There is a waiting list for the most popular courses, which sell out fast, but bespoke corporate events and group bookings for up to 24 people are available on request.
They say: We offer a full range of inspiring hands-on classes for all ages and abilities… members and non-members alike. Best of all, we do all the laborious preparation, so that you can spend more time cooking.
We say: Don't be intimidated if you're a man – Denman's Men in the Kitchen course is tailor made for husbands, boyfriends or any men who want to boost their culinary confidence.
Contact:
The WI Cookery School at Denman, WI Cookery School, Denman College, Marcham, Abingdon, Oxfordshire, OX13 6NW
01865 391991;
www.denman.org.uk/