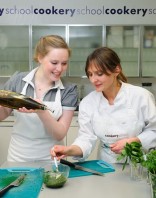 Basic ingredients: Rosalind Rathouse is the professional chef and self-confessed food obsessive who runs, with great success, the Cookery School. Situated two minutes from Oxford Circus on Little Portland Street, the school, which has a large, bright and well equipped  basement kitchen and a smaller upstairs one, offers a range of seasonal, specialist and international cookery classes such as Middle Eastern cuisine and a Sourdough Masterclass with Dan Lepard. Prices start from £115 for a morning or evening class rising to £250 for a full-day. They also offer intensive day or short evening courses for beginners, improvers and advanced cooks and a six-week long Cook's Certificate in Food and Wine for those wanting to learn to work in a professional kitchen.
They say: Our approach to food is simple, modern and imaginative. We continually strive to find sustainable sources for the food we cook and use a range of very exciting suppliers.
We say: Cookery School's strength is the wide range of hands-on classes and courses on offer and the sharp team under Rathouse who runs the school. There are  'day' or 'evening' options for those with tight schedules and the guest appearances by well-known cooks add an extra spark to the already bursting seasonal programme. The Absolute Beginners course is a great way to get the basics under your belt.
Read our latest cookery school report here.
Contact:
Cookery School at Little Portland Street, 5b Little Portland Street, London W1W 8BW
0207 631 4590;
www.cookeryschool.co.uk