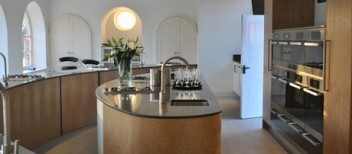 Basic Ingredients: The recently refurbished kitchens at the Braxted Park Cookery School inhabit a pristine white, beautifully-illuminated space with huge arched windows that look out on to 500 acres of Essex parkland. The school's calendar lists courses for both 'complete beginners' and 'budding master chefs' and there's plenty for everyone in between. A typical day costs £135 per person, starts at 9am for a meet and greet over coffee, followed by demonstrations and hands-on cookery, culminating in a three-course dinner with wine at 3pm. The roster of hand-picked chefs includes Masterchef 2006 winner Peter Bayless, who teaches a class in French Provincial cooking, and Step Up To The Plate 2008 winner Padmaja Kochera who teaches Authentic Indian Cuisine. There are many other courses from seasonal to skills-based and two-day residential courses that aim to give students 'a whole new philosophy on cooking.' 
They say: After a satisfying day of cooking, you will be rewarded with a glass of wine in our new dining room and enjoy the food that you have prepared. This is the ideal time to relax and share hints and tips with the group. 
We say: The school offer an impressive variety of courses. Of particular note is the Seafood Extravaganza that demonstrates a lot of different dishes while emphasising important techniques such as filleting, scaling and making fish stock.