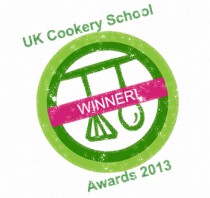 One of the most enjoyable things about judging the second UK Cookery School of the Year Awards 2013 has been seeing the professionalism and innovation in cookery schools across the country.
The awards are run in association with Tabasco Pepper Sauce to highlight outstanding achievements in an industry that remains largely unregulated and, as with last year, choosing an overall winner from such robust shortlists was a challenging task.
But we had to plump for a champion and runner-up in each category and we're pleased to announce that the winner of the 2nd UK Cookery School of the Year Awards is… Cambridge Cookery School.
"Cambridge is blessed with a very smart cookery school," says Nick Wyke, founder of Looking to Cook. "There are much bigger cities that don't have such a well run teaching facility. Tine Roche is a passionate and well informed teacher who brings knowledge, colour and a touch of Nordic style to an exciting range of classes."
Other winners included the Cookery School, in Central London, where Rosalind Rathouse and her team are resourceful, enthusiastic about all the right things – they are genuine champions of sustainable cooking and ethical eating – and constantly striving to innovate. This year they introduced a fast track Food and Wine certificate over six weeks, offering an affordable entry point for wannabe chefs.
Out in the sticks it's hard to argue with the amazing heritage work going on at the School of Artisan Food in Nottinghamshire. Prince Charles was impressed when he visited this not-for-profit school in 2011 and so are we with its focus on provenance and preserving handmade production. Truly expert tutors teach courses that range from ice cream to cheese making but specialise in the nation's true passion: baking.
Winners in the best course categories include: the action-packed Culinary Adventures at Tideswell School of Food, where students might forage, shoot or fish their way around the spectacular Peak District and engage first-hand with food producers before returning to the school for a hands-on cookery experience; and the cleverly honed express lunchtime courses at L'Atelier des Chefs in London, which have filleted out all the long-winded guff common at lesser schools and rewritten the cookery class for our time-poor age.
We are always delighted to see such a healthy response to the Best Community Focused Cookery School award. A good cookery school is in tune with its neighbours, it gives back to its local community and has something to offer for people of all ages and backgrounds. Central Street Cookery School in London exemplifies these tenets. It's a smart, light school that hosts a roster of enlightened teachers and offers accessible courses from as little as £5 and rarely more than £30.
Our shortlist for Best Tutor is testament to the commitment and charisma and sheer hard work that's needed to build a successful business. A raft of glowing comments are proof that both Nicole Freeman at Kids' Kitchen and Alexis Thompson at Dancing Trousers are running popular courses with loyal followings.  Christine McFadden offers an exciting range of courses in Dorset always peppered with her knowledge of culinary history. But Rachel Demuth has been at the helm of an institution – Demuths Vegetarian restaurant – in Bath for 25 years now and run the Vegetarian Cookery School for 12 of these. Those lucky enough to share a class with her take home much more than meat-free leftovers.
Runner-up in the Best Diploma Course category last year, Edinburgh New Town Cookery School scoops our prestigious award. The two-tier six-month course includes modules in recipe development and food photography. Hot on their heels is the excellent 10-month Advanced Diploma in Baking at the School of Artisan Food led by master baker Wayne Cuddy.
Finally, thank you to everyone for their entries, there are many schools doing great things that didn't quite make the shortlists for one reason or another. There's always next year when we'll be running an even more enticing version of our awards!
Summary of the winners
Best cookery school
Cambridge Cookery School
Runner-up: Divertimenti, London

Best city cookery school
Cookery School, Central London
Runner-up: Food at 52, London

Best country/residential cookery school
School of Artisan Food, Notts
Runner-up: Yorkshire Wolds Cookery School
Best short cookery course
Cook, Eat, Run express classes at L'Atelier des Chefs, London
Runner-up: Seasonal Pakistani cuisine and street food by Pukka Paki, London
Best day cookery course or food learning experience 
Culinary Adventures at Tideswell School of Food, Derbyshire
Runner-up: Coastal forage for school children at 102 Cookery School, Bristol

Best 'diploma' cookery course
Edinburgh New Town Cookery School
Runner-up: School of Artisan Food, Notts
Best community oriented cookery school
Central Street Cookery School, London
Runner-up: Food at 52, London
Best cookery school tutor
Rachel Demuth, Vegetarian Cookery School in Bath
Runner-up: Christine McFadden Cookery Courses, Dorset
Best cookery school website to be announced shortly…