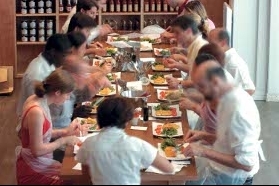 Basic ingredients: Parisian brand L'Atelier des Chefs has been in London since 2008. It has a modern, hands-on philosophy that aims to get time-crunched town dwellers cooking. The atmosphere is relaxed and fun, the social aspect is emphasised almost as much as the food itself. There are about 120 classes a month, covering a huge array of cookings styles from sushi to French classics to gastropub grub, vegetarian and many more. The charging structure is essentially £36 per person per hour. The longest courses are 4 hours, including the Grande Cuisine Master Class, which comes in at £144 per person. A second school opened in May 2010 near St Paul's, in the City; it has a glass encased teaching kitchen, space for students to eat around a long communal table, a small bar and a large retail section offering quality brand kitchenware from the Continent. The City branch is based at 10 Foster lane, London EC2V 6HR (tel: 020 7796 0110).
They say: Our half-hour Cook, Eat and Run class is a creative and fun way to spend a lunch break with friends or colleagues and helps you to beat Jamie to the 30-minute meal.
We say: We like the energy and no-nonsense formula at L'Atelier's courses – most courses are less than two hours long. The tutors know their stuff and are good communicators. It's a great place to pick up a few dinner party tricks or dishes that could last a lifetime. Downstairs, at the Marylebone school, is a cookshop where you can buy any of the implements or gadgets used in the classes.