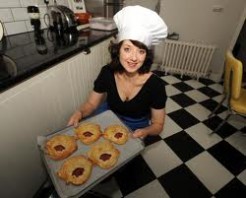 Basic Ingredients: Kooky cook Marika Gauki is an Anglo-Greek former punk whose band enjoyed brief success in the US. Now she runs a morning cookery class out of her own kitchen for £60 focusing on sweet and savoury picnic snacks. Students learn how to rustle up bite-sized treats such as mini-beef pasties, feta cheese tartlets, sun-dried tomatoes, tabouleh, orzo pasta salads and cakes. Small class sizes of up to five people make this hands-on and intimate.
They say: A report on Delia Online sums up – "Marika is a glamorous, bubbly lass who immediately puts you at ease. We were soon making individual beef and Guinness pies and spiced apple pies as she bopped around the kitchen, tasting, checking and offering useful tips."
We Say: Genius. Pitch up at an ex punk's North London pad with an empty hamper and then head for Hampstead Heath having been taught how to fill it. Book early for Marika's Sunday Pie Making Club held at a bakery in Muswell Hill on the first Sunday of the month.