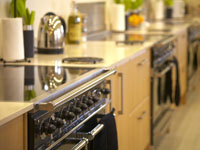 Basic ingredients: This new cookery academy is on a working pig farm but is kitted out with a smart modern teaching kitchen. There's a healthy emphasis on local and seasonal foods reflected in courses such as Yorkshire – Born and Bred, Seasonal Dinner Party Entertaining and the chance to learn Michelin-standard techniques from the chef-proprietor at the Pipe and Glass Inn, East Yorkshire's first and only starred restaurant. Courses are helpfully graded from "beginner" to "expert", take a maximum of eight students and offer good value with prices ranging from £20 for a really Posh Picnic and other demos to £150 for the two-day Savvy Student Survival course. The accommodation at the cookery school is simple and modern including six guest rooms and a three-bedroom holiday cottage overlooking the Wolds.
They say: We aim to show you how to make superb food easily. Whatever your standard we want to take you to a new level while enjoying the Yorkshire landscape and using its best produce.
We say: Make the most of the authentic farmstead setting and be sure to try some of the farm's Givendale Prime free range beef.