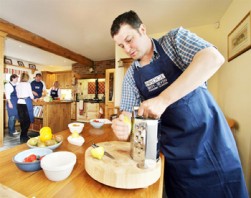 Basic ingredients: From its humble beginnings in a farmhouse kitchen in 2006, Bridge 67 has upgraded to a purpose-built cookery school run by three experienced chef tutors and the original founder, Jill Vickers. The school is now on two levels, with a teaching kitchen equipped with six Falcon Range cookers on the ground floor and a dinning room above it. Full-day courses, which usually run on Saturdays, cost £130 and are aimed at one of three skills levels from basic to advanced. The course format is a mixture of hands-on and demonstration resulting in modern-style dishes. Courses range from Seasonal Dinner Parties and Game to Breadmaking and Men in the Kitchen, to name a few. For a simpler approach, opt for Everyday Meals or Cooking up a Curry. The school also organises Family Fun Cook Day classes in the holidays that cost £75.
They say: Our mission is to make cooking accessible to those with no skills and to inspire competent cooks. As well as cooking, we also teach about where to shop for food, how to store food and how to adapt recipes. We work with wholesome and natural ingredients and transform them into contemporary dishes.
We say: The school is located 11 miles south of Leicester where the Grand Union Canal runs through Binleys Bridge Farm (at the bridge numbered 67, of course). It's an area of the country that's a bit light on cookery schools so it may be worth travelling to Bridge 67. At more than seven hours long the courses are good value and cover a variety of dishes, techniques and skills. Reason enough to visit  Smeeton Westerby, we think.
Contact:
Bridge 67 Cookery School, Binleys Bridge Farm, Debdale Lane, Smeeton Westerby, Leicestershire LE8 0QD
0116 279 6155;
www.bridge67cookeryschool.co.uk