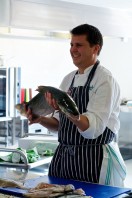 Basic ingredients: With more than 25 years of culinary globe-trotting, from America to Singapore, Cotswold Chef  Rob Rees has a wealth of experience to offer those keen to develop some serious cookery skills, or who want to just grasp the basics. Rob's mission to nurture young talent is evident in his Junior Chef, Apprentice and Student Cooking Courses that range from £150 to £195 for up to a few days. For adults, £300 will procure a good-value basic education across 6 weekday evenings. "Food Experiences", lasting 3, 5 or 7 days, range from £550 to £1,200 and make use of superb local ingredients and artisan producers. Packed day sessions run from 10.30am to 5pm and take in tours, tastings, demonstrations and practical cookery sessions. Many classes are tailored to individual preference covering topics such as chocolate, fish or meat through to special diet based courses. Teaching generally takes place at the Food Centre or 'Hub' in the verdant grounds of the Royal Agricultural College, just minutes from Cirencester. Anyone looking to soak up the surroundings can benefit from special rates on local accommodation if participating in a package tour or experience.
They say: The Cotswolds has some of the best food, drink and chefs in the country and we have linked up with many of the food heroes and characters who bring the local food scene alive. These special people are ready to give you the behind-the-scenes view of their business allowing you to connect with the food that will fill your hungry tummies.
We say: The Cotswold Chef has a charitable arm, The Wiggly Worm, which delivers practical help, through the preparation and sharing of food, to sectors of society such as drug addicts, young offenders and people with mental health issues.
Discover more about Rob Rees' culinary passions in our cookery school Q&A