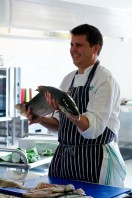 First food memory?
Afternoon tea being served at the Sonesta Beach Hotel in Bermuda.
First cookery skills?
Licking the bowl!
Favourite ingredients?
Nutmeg is fantastic with sweet or savoury dishes and I have never used salt in nearly 20 years of cooking!
Recipes or improvise?
Love winging it with savoury but recipes for baking.
Most underrated dish?
Potted Shrimps.
Indispensable kitchen gadget or utensil?
Everhot's British engineered oven is the most economical range oven on the market place.
Tell us a top cookery tip?
Learn how to de-bone a whole chicken. This skill will save you a fortune with chicken portions, which can cost as much as £20 a kilo, when a whole bird may just be £4  a kilo.
Eat at home or eat out?
50/50
What's Britain's best kept food secret?
Us – we have quietly educated thousands of people about the power of food.
What are the key ingredients for a successful cookery class?
Qualified and well experienced staff.
Contact: Cookery school Q&A: Rob Rees, The Cotswold Chef