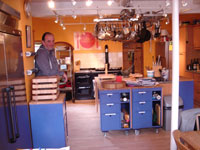 Basic ingredients: Combining a warm and homely atmosphere with an impressive range of cookery courses and tuition from professional chefs, The Cooking Experience is situated in the house of husband-and-wife team, Mark and Annie David. Mark has a background in the restaurant trade, including three years with Egon Ronay as an inspector of hotels and restaurants, and they both run an outside catering company. The 7-hour day courses are highly interactive and with approximately five different dishes to prepare, there is plenty of hands-on cookery to be done. An experienced team is on hand to teach classes from Quick and Easy Entertaining to Middle Eastern and North African cooking, all of which is done with patience and good humour. There is also time set aside to eat, drink and chat throughout the day and the two kitchens and outdoor barbecue area can accommodate private parties and corporate teams.
They say: We are well known for being extremely generous with the wine, so a lift home is advisable!
We say: Keep an eye out for seasonal courses on offer throughout the year. As with the regular day courses, these are 7 hours and priced at £145. The website offers a sample itinerary of each course so you have a good idea of what dishes you may prepare on the day.