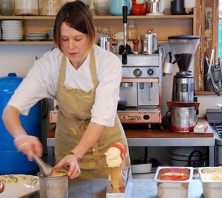 The following "hand-made" cookery courses are hands-on and make rewarding gifts for Christmas.

ICE CREAM
The central tenet of the
School of Artisan Food
, which is based in converted stables on the Welbeck Estate in Sherwood Forest, is to share traditional food production techniques.
Kitty Travers of La Grotta Ices
 (pictured, right) is usually found selling the likes of pink gooseberry and hazelnut crumble ices from her tiny van on trendy
Maltby Street
in Bermondsey South London but revs up to Nottinghamshire to run the one-day Artisan Ice-Cream Making course. She tackles custard-based ice cream, sorbet, granita and other frozen treats made both by hand and using an ice-cream maker. This is perhaps the perfect present to complement the gift of an ice-cream maker to ensure that it is not relegated to the back of the kitchen cupboard. (£105 per person ; 
www.schoolofartisanfood.org
)

SAUSAGE MAKING
The London-based
Ginger Pig
has developed an admirable line in hands-on butchery courses which are hosted in the evenings and on Sunday afternoons at its branch in Moxon Street, Marylebone. There's something quite therapeutic about the sausage making class and it's fun, too – no-one has yet used the power filling machine without cracking up. Students get to take their sausages home and each class is rounded off with a slow-roasted feast and a few glasses of red wine. (£135 ;
GingerPigButchery
)

CHEESE
There are not many places in the UK that teach people how cheese is made. To fill that gap, Bristol's
Cheese School
was founded earlier this year by the food and drink writer
Fiona Beckett
 and artisan cheesemaker Jess Trethowan, who produces Gorwydd Caerphilly at
Trethowan's Dairy
in Wales. A full-day programme meets a roll-call of renowned cheesemakers and explores a variety of British cheeses with tastings, tips and wine, beer and cider matching ideas. Venues vary. Courses are seasonal and cost £125 per person.
www.cheeseschool.co.uk

CHOCOLATE
Based in a former pub in Whitefield, Manchester,
Slattery
is a veritable chocolate factory with its own showroom, shop, smart dining room and school kitchen upstairs. One of its most popular courses is the six-hour Chocolate Shoe Making workshop where students create two pairs of edible ladies' shoes and learn a variety of techniques including piping and colouring. Other tempting classes include sugar craft and creative cupcakes. (£150 ; For gift vouchers call: 0161 767 9303 ;
www.slattery.co.uk
)

AGA
Given that a new high-tech
Aga
 costs just under £10,000, it might be wiser to encourage a family member to learn how to make the most of the one that's already in the kitchen.
Eckington Manor Cookery School
in Evesham Vale offers a range of one-day Aga courses from Hands On to Easy Entertaining and Bakes and Cakes. Students have their own Aga in a state-of-the-art kitchen that relays images from around the cooking school to flat-screen televisions. (£175 per person, 
www.eckingtonmanorcookeryschool.co.uk
)

SUSHI
Choose from different level sushi and sashimi classes held at the comfy home of Japanese chef
Reiko Hashimoto
, in Wimbledon, southwest London. Learn about the importance of the rice, how to cut raw fish, rolling techniques and perfect presentation. Classes are usually on a Saturday, last four hours and cost £120. (For gift vouchers call: 0208 944 1918 ;
www.hashicooking.co.uk
)