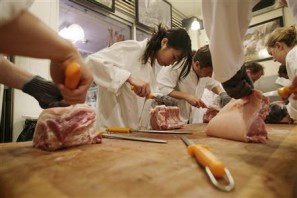 Basic ingredients: This popular London butchers of rare breeds reared on the North Yorkshire Moors started out at Borough Market in the late 1990s and now has four shops in the capital as well as its own newly released cook book. It also runs hands-on butchery classes from its branch in Moxon Street, Marylebone, on Monday to Friday evenings and on Sunday afternoons.  Skilled butchers and passionate carnivores teach students about the meat's provenance, how to get the best from cuts, tips on shopping and a range of basic butchery skills. Choose from beef, pork, lamb and sausage making. All courses cost £135 and end with a slow-roasted feast and a few glasses of red wine.
They say: Our butchers are well versed in all aspects of cutting meat, the ageing process, how to make salami, cured meats and sausages.
We say: Not for the squeamish or faint hearted. Expect to don a white lab coat, spill a bit of blood (not your own), sweat and chop carcasses. The course receives great feedback on the whole and even converts a few people from supermarkets to their local butchers.