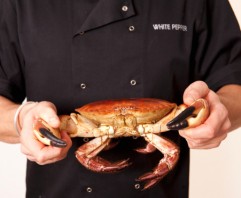 Basic ingredients: White Pepper is one of the most appealing cookery schools in the UK offering exceptional cookery courses and food experiences to both the amateur and professional alike. The culinary experience at White Pepper is rooted in Dorset's plentiful local food and enhanced by its "gorgeous" rural setting, just a stone's throw from Poole Harbour and the world heritage site of the Jurassic Coast. Courses are designed to accommodate all abilities, from beginners to new courses for professional chefs. Signature courses include Beside the Sea, Bread at Bere Farm, Feathered & Furred, Forage Fungi and French Patisserie. There are more than 40 other courses available ranging from 2 hours to 4 weeks. Luke Stuart, a qualified teacher and chef who has worked for the Roux family and whose impressive portfolio includes four years experience at the mighty Tante Marie Culinary Academy, oversees a highly qualified and personable team trained to unlock students' potential and develop their skills. Learning is enhanced by an on-site 'Food Safari' and a guaranteed 75 per cent hands-on experience across all courses. The school is based in a contemporary barn renovation from what was originally a bakery. It is spacious and boasts excellent facilities including Rangemaster ovens and a demonstration theatre that can hold up to 25 students. In 2012 the school was recognised in three national awards – including Looking to Cook's UK Cookery School awards in the best community focused category – as well as scooping a Dorset Business award.
They say: Driven by a passion for quality food and first-class teaching, our professional courses teach the how and why of cookery in a relaxed and engaging way and our vision is that you leave feeling inspired, confident and skilled.
We say:  The school's inclusive approach is borne out through various community projects, charity work and food festival demonstrations. There is a strong affiliation with Dorset Food and Drink, local artisans and producers.  We recommend exploring the website's blog, which includes a cookery school video tour, or calling the school to discuss residential courses and weekend cookery breaks.
Contact:
White Pepper Cookery School, Bere Farm, Wareham Road, Lytchett Minster, Dorset BH16 6ER
01202 971 292;
www.white-pepper.co.uk