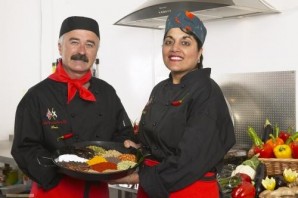 Basic ingredients: Led by curry enthusiasts Louis and Nick Lewis, courses happen twice a month, last between 5-6 hours, and take place in a 'light-filled' barn near Bodmin said to make the colour and beauty of the ingredients stand out.  Groups are kept small (six max) so students receive hands-on attention as they learn how to make classic curries, finger food and dips. Expect to produce as many as five dishes over the day. Lunch, tea and coffee included.
They say:  Great curry secrets unlocked so you go away able to impress friends and family. Students get to sample our secret blend that we call 'The Magic Mix', and access to recipes based on our best-selling curries.
We say:  Taking home a meal for 6-8 people is a bonus. There is also the promise of 'God's Wine' from Nick and Louis' special well. All at the bargain price of £85.00.
Contact: The Little Cornish Curry Company, Bodmin, Cornwall
01208 832 268 or 07831 400005